Property in Elviria
A beautiful and exclusive residential village east of sunny Marbella, Malaga
A home in Elviria is an excellent option to enjoy the best that the Costa del Sol and Andalusia have to offer. Just 10 minutes east of Marbella, it presents the distinguishing advantage of being near Cabopino port where residents may moor their boat. The majority of homes in the complex are just a quick walk from the beach.
Golf courses next to Elviria or a few minutes' drive away include Santa Clara, Marbella Golf Country Club, Greenlife, Santa María, and Cabopino. The Costa del Sol as a whole is also known as the "Costa del Golf", and boasts a total of 70 courses so that no golfer or fan need ever feel limited to just a handful of venues.
Although a part of the municipality of Marbella, Elviria is a self-contained village with bars, cafes restaurants, shops, a post office, a luxurious tennis club, and even its own town hall. So that children may enjoy a richer primary and secondary learning experience, there is even an English International school here that adheres to the British curriculum and has 500 students of mixed nationalities.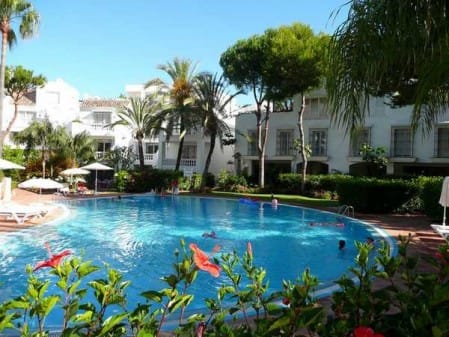 The Marbella area is famed for luxury, but it is also worth recalling the practical advantages of the location, for instance that it is just a 30mins drive from the Malaga airport and 10 minutes from Hospital Costa del Sol, which offers some of the best healthcare in Andalusia.
Apartments, townhouses, and villas are available in Elviria, representing a vast array of investment possibilities with lasting value at the heart of a broader area that has acquired fame for its cachet and convenience. Elviria deserves careful consideration from potential investors looking for a high-standing property in Spain.
By Eloise Horsfield | Featured Properties | September 29th, 2009