Sotogrande Property Guide
We are delighted to announce the first of a series of websites dedicated to selected Costa del Sol locations is now online.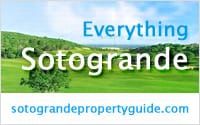 Sotogrande Property Guide will be one of the most informative sites related to Sotogrande living and Sotogrande property.
Staff of Terra Meridiana will join professional journalists, all of them fully integrated in to the Sotogrande community and with local knowledge of the Sotogrande area, to update the site not only with property in Sotogrande information but also with useful information about Sotogrande Living.
By Eloise Horsfield | Property News | June 2nd, 2009
Related Posts
Related Properties